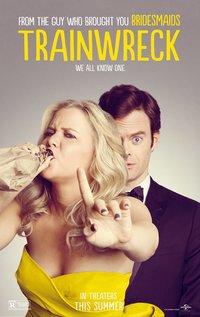 After gazing a little too lovingly at his own navel in his previous film, the superlatively self-regarding This Is 40, director Judd Apatow (Knocked Up, Funny People) returns to form with this appealing comedy starring and written by nascent superstar Amy Schumer.
She plays 'Amy', a hedonistic magazine feature writer who has spent her life actively avoiding anything resembling a monogamous relationship.
When her editor assigns her to write a feature about straight-laced sports surgeon Aaron (Bill Hader), Amy couldn't be less interested. She ends up hooking up with Aaron after a moderately boozy night, then struggles with what to do when he expresses a genuine interest in pursuing a 'proper' relationship.
As anyone who's seen her relentlessly hilarious skit show Inside Amy Schumer can attest, Schumer is a supremely gifted comic actor who brings a uniquely honest quality to everything she does. The humor in Trainwreck addresses familiar topics, but Schumer's personal touch prevents it from ever feeling generic.
Her willingness to make herself the butt of most of the film's jokes is unmatched in modern cinema, and only makes her all the more endearing.
Gifted impressionist Hader (Saturday Night Live, Inside Out, The Skeleton Twins) is a lot mellower than usual, but he makes an appropriate foil for Schumer's big personality.
Apatow's affinity for celebrity cameos gets a little distracting here, with too much emphasis placed on Aaron's A-list sports star clientele. That said, basketball great LeBron James acquits himself nicely as Aaron's confidante, and WWE superstar John Cena has a few choice moments as Amy's sorta-boyfriend. Oscar-winner Tilda Swinton is also fantastic playing against type as Amy's vapid editor.
As with This Is 40, Trainwreck flails a little in the ending, but it's still a journey well worth taking.