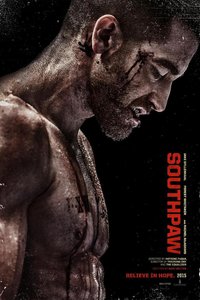 Jake Gyllenhaal follows up the stellar Nightcrawler with another physically transformative performance, but he struggles to elevate Southpaw beyond the boxing movie clichés it entirely relies upon.
He plays Billy Hope, a rough-around-the-edges boxing champion whose life falls apart when tragedy hits his family. After his beloved daughter is taken into care and all his millions dry up in the manner that always seems to plague movie boxers, Hope downsizes to a crummy apartment and sets himself on the path to redemption.
This brings him into contact with Tick Willis (Forest Whitaker), a boxing trainer struggling with his own demons.
As innumerable examples over the years have shown, it's not difficult for films to tap into the inherent drama of a boxing match. Throw in a comeback storyline, and the movie pretty much writes itself. Which really feels like the case here, despite a script from acclaimed Sons of Anarchy creator Kurt Sutter.
The film really strains to have Hope come across as the kind of underdog he clearly intended to be.
Despite this, and the fact that every single plot development is telegraphed far in advance, I still found myself quietly cheering for the scrappy pugilist.