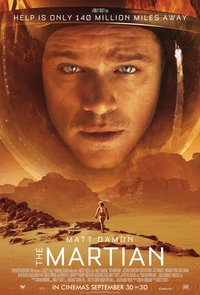 Alien and Prometheus director Ridley Scott re-affirms his status as one of modern cinema's most confident helmers of space-bound movies with this tense, slick thriller faithfully adapted from Andy Weir's 2011 runaway bestseller.
Matt Damon plays Mark Watney, a NASA botanist on a mission to mars who finds himself stranded alone on the red planet after an accident during an emergency departure.
Beyond oxygen, the problems Watney faces are longform: even if he can call for help, pontential help is at least three years away and he only has enough food for two months.
Scott repeatedly honors the book's winning celebration of scientific problem-solving in how he tackles these dilemmas without turning the film into 'MacGyver on Mars'.
Supporting storylines involving the rest of the crew (which includes Jessica Chastain, Kate Mara and the always reliable Michael Peña) and the reaction on Earth from NASA (Chiwetel Ejiofor, Donald Glover, Sunshine's Benedict Wong, Jeff Daniels, Kristen Wiig) unspool with an urgency that belies their extended timeline.
Much exposition is delivered by video confessional, placing Damon's All-American earnestness front and center. But it's well-applied here, and feels appropriate for this sincere celebration of how space travel can bring out the best in humanity.