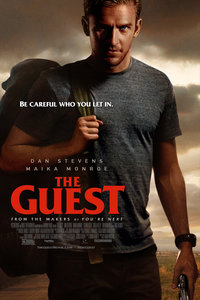 Anyone who'd seen The Line of Beauty knew there was more to Dan Stevens than Matthew Crawley, but with his chilling lead performance in this unnerving thriller, the actor moves about as far away from Downton Abbey as humanly possible.
Here Stevens plays David, an outwardly genial American soldier who visits the family of his fallen comrade after returning from Afghanistan. Despite his slightly off-kilter nature, the Petersons invite David to stay. Then he begins to take an interest in the lives of pubescent Luke and teenage Anna, with unpredictable results.
Thanks in large part to Stevens' stunning work, there's an everpresent sense of unease in The Guest that makes it compulsive viewing from start to finish. The authentically-rendered scenes of domesticity bristle against the slowly-racheting tension as David sets about trying to "help" the Petersons.
Although it's still a relatively low budget film, this is a much slicker affair than director Adam Wingard and writer Simon Barrett's prior work You're Next.
There's plenty of independent grit to texture up the proceedings, but the production value here is high enough to make this film feel at home in a multiplex.
Embracing and subverting genre clichés in equal measure, most studio thrillers struggle to be even half this much fun.