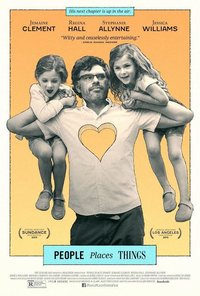 After going big in What We Do In The Shadows, Kiwi comedic genius Jemaine Clement (Flight of the Conchords) offers up a somewhat mellower performance which textures up this romantic dramedy. If you've seen enough of these kinds of movies, a point of difference like this counts for a lot.
Clement's highly amusing lead performance channels an unmistakable sense of Kiwi understatement, and it benefits the film to no end.
He plays Will, a New York cartoonist, teacher and father of two young daughters who struggles after being dumped by his partner.
Clement uses his own accent, and it's casually noted that Will is from New Zealand. One Hobbit joke later, it's never mentioned again.
So although Will's connection to The Land of the Long White Cloud serves no plot function, the tone of this film positively screams Aotearoa New Zealand. Clement's ability to distill the meeker aspects of the New Zealand collective identity into endearing character forms is unmatched and in full force here, and it colors the entire film.
Seeing such a classically mawkish Kiwi type face a variety of familiar rom com conflicts in a New York setting is very interesting, and very funny. Only Clement can project such passivity with such forcefulness, he really is the perfect cinematic ambassador for New Zealandness.
The supporting cast are uniformally excellent, especially Regina Hall (Scary Movie 1 – 4, Vacation, Think Like a Man Too) and Jessica Williams (The Daily Show, Girls) but it's ultimately Clement's presence that sets this film apart.