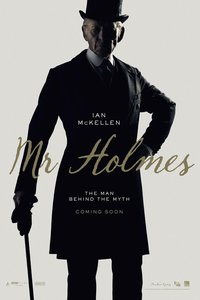 Sir Ian McKellen re-unites with Bill Condon, who directed him to an Oscar nomination in 1998's Gods & Monsters, for this mellow drama about an aging Sherlock Holmes attempting to recall his final case. Nothing of note really to see here, but moderately passable nonetheless.
Now 93 years old, Holmes has retired to a small coastal village and enjoys tending to his beehives. Watson is no longer in the picture, and Holmes remains frustrated by the fictitious affectations (the giant pipe, the deerstalker hat, etc) Watson has propagated via a series of books he wrote about their various adventures over the years.
With this in mind, Holmes sets about writing a "proper" chronicling of his final case, the one which caused him to retire. But the great detective's legendary mind is finally beginning to falter, and certain details about the case in question (which plays out via flashbacks) remain just out of Holmes' grasp. Ian McKellen is as captivating an actor as ever, and there is a welcome gruffness to his interpretation of Holmes.
The character conflict, involving Laura Linney as Holmes' housekeeper and Milo Parker as her son, works better than the central mystery, which never quite comes to life as a driving narrative force.
A principally nostalgic experience, Mr Holmes is at its most amusing when subverting Holmes-ian stereotypes, and a particular highlight in this area sees Holmes attend a theatrical showing of a film based on one of Watson's books. Nicholas Rowe, who played the title character in the underrated 1985 adventure, Young Sherlock Holmes, returns to the role for Mr Holmes' film-within-a-film.
Apart from this awesome cameo, there are no real surprises here, and the elegiac tone gets a little tiresome at times. But McKellen's reliable skills as a performer prevent the movie from slipping into mediocrity.