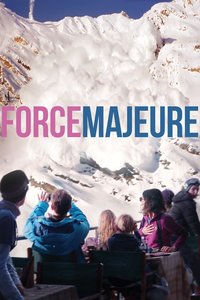 This hilarious and devastating Swedish film is unlike any other movie ever made. It's something along the lines of what you might imagine would result if Ingmar Bergman made a Final Destination movie.
Tomas (Johannes Kuhnke), his wife Ebba (Lisa Loven Songsli) and their young son and daughter are on a family skiing holiday in the French Alps. While enjoying lunch on the balcony of the mountain café, they witness a controlled avalanche in the distance.
The avalanche continues to bound torward them without stopping, and just as it is about to engulf the café, Tomas grabs his phone and gloves and bolts from the table while Ebba scrambles to corral their children.
However, the advancing whiteness turns out to be a harmless cloud of mist, and when it dissipates, everything has changed between the couple.
This amazing sequence occurs in one incredible static shot, and it's a sadistic joy to watch its repercussions eventuate.
As Tomas and Ebba's conceptions of each other and themselves begin to crumble, a series of tragi-comic set-pieces play out which explore the incident from a variety of angles. Much is discussed, more is left unsaid.
The queasy tension generated by the inciting incident renders every corner of the ski resort a potential looming death trap, almost turning the film into an arthouse riff on aforementioned fatalistic horror series Final Destination.
The performances are all stunning. Norwegian actor Kristofer Hivju — last seen as the hulking, ginger-bearded wildling Tormund Giantsbane in Game of Thrones — is very effective as a friend of Tomas' who gets drawn into the conflict.
Force Majeure throws up a bold initial gambit, then follows through with equal boldness. As unpredictable as it is uncomfortable, this is an essential modern cinema experience.