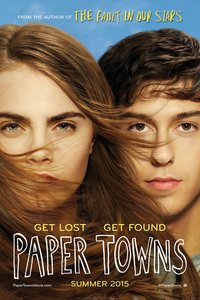 The second book by young adult literary sensation John Green to be adapted for the big screen after last year's break-out hit The Fault In Our Stars, Paper Towns displays a similar affection for its well-drawn teenage subjects, but it is a gentler film than its heart-wrenching predecessor.
Nat Wolff (who played Issac in Stars) stars as Quentin, a college-bound straight-arrow who's been nursing a deep crush on the girl across the street all through high school. So when she asks for his help with a prank-driven revenge plot one evening, he willingly obliges and they share a crazy adventure. Then Margot (Cara Delevingne) disappears and Quentin and his two best pals set about trying to find out what happened.
Paper Towns knows and respects its audience, and it shows. It's light on its feet, plenty funny, and admirably committed to demystifying some of the teenage stereotypes that most coming-of-age films revel in reinforcing.
Wolff is an engaging lead, and model-turned-actress Delevingne more than proves her cinematic value, even if she is off-screen for most of the movie.
The film's other female lead, Halston Sage, who barely features in the marketing, is great too. And I couldn't shake the feeling that Austin Abrams, who plays Q's motormouthed buddy Ben, was a young clone of Martin Short.
It's tempting to describe this as John Hughes' Gone Girl. But I won't.