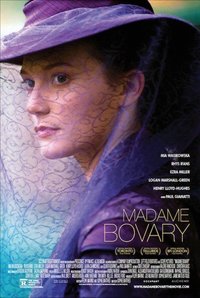 Australian actress Mia Wasikowska (Alice In Wonderland, Maps to the Stars, Jane Eyre), whose ascendancy as a leading lady only seems to accelerate with every passing year, stars in this English-language adaptation of the legendary 19th-century French novel about the eternal conflict between fantasy and reality.
Wasikowska plays the title character, the romantically-minded young wife of a country doctor. When the banalities of rural life set in soon after marriage, Bovary's social aspirations lead her to engage in a series of destructively flagrant affairs, and spur on her insatiable appetite for material posessions.
Although purists haven't exactly welcomed this version of Gustave Flaubert's classic with open arms, the beats of story come across strongly, the production is handsome, and the performances engaging.
Wasikowska has repeatedly proved herself as authentic period presence, and here that authenticity allows her to subtly incorporate moderately modern mannerisms that never jar with the surroundings once you accept that nobody in this film is going to be speaking French.
Her slightly otherworldly presence also has an empathizing effect on the mostly awful lead character, which helped me to enjoy her shameless social climbing.
Rhys Ifans (The Amazing Spider-Man), Henry Lloyd-Hughes (Indian Summers) and Paul Giamatti (Love & Mercy) deliver great support as her enabler, her husband and his scheming friend, respectively.
The 1991 French adaptation starring Isabelle Huppert remains the definitive big screen Madame Bovary for now, but this take on the tragic and timeless tale is nevertheless well worth a watch.